Dallas Stars urge students to stick with reading.

Members of the Dallas Stars hockey team and Bryan Adams Cheerleaders recently held a kick-off rally for the year-long "Stick With Reading" program for elementary and middle school students.
Stars players Marty Turco, Scott Young, and Aaron Downey visited classrooms at Hexter Elementary School, read to the students, and answered their questions.
The goal of the Radio Shack-sponsored program is to teach children that reading is cool and vital to their success. Using incentives, the program encourages students to read during their leisure time.
Participating classrooms receive official Radio Shack Stick With Reading bookmarks, posters and scorecards. Students record their extracurricular reading over a six-week period. Those who read more than 500 or 800 minutes are awarded prizes, and the classroom with highest average of minutes per reader will receive tickets to a Dallas Stars home game. The top reader in each of three age categories will be given special recognition at a Dallas Stars home game.
Thirty-three district schools are participating in the program, which is for students in kindergarten through eighth grade runs through Nov. 22, 2002.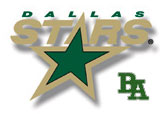 .