Representing BA in our nation's capital

By NOOR SHAHED
2014 BA Graduate

...........The moment I landed in Washington D.C was the beginning of my journey to expand my horizon on politics. Once I met the Close-Up representative she introduced me to a girl who ended up being my roommate. We got along very well! Once I got to the hotel, I put my luggage in my room and went to orientation. The feeling at orientation was new, exciting and filled with curiosity. I thought we were going to be able to rest once orientation was over but I was sure wrong. We got to work right away! I was put in workshop 5, the Jackson room. We started right away to discuss about liberalism and conservatism and who we thought we were.

The whole week that I was there the schedule for every single day was jam packed. The only time we had for ourselves was during lunch and the bus ride. Every memorial we went to we were always given a task to accomplish by the end of the visit and afterwards gather up and discuss it. The seminars we would attend were also fun due to the fact we were able to discuss political issues with people who actually have a hand in making a difference to it.

Once our everyday visits were over we'd always have a workshop at 5pm to discuss new political issues such as drug policies, gay rights and more.

Every student who was a part of Close-Up got to meet their state representative and senator. I was able to meet Sen. Ted Cruz's staff assistant and question him about every political issue I had an interest in. Although he wasn't able to answer all of my questions precisely he did answer some in full detail. I don't think I'd be able to forget that experience because not every student has the chance to personally go and ask their representatives questions about political issues they are passionate about. It was a great experience for me.

Although I was able to visit many famous places in DC I'd have to say the Library of Congress caught my eye the most. Once I stepped in it was beautiful. The architecture was beautiful and I could not get enough of it. Jefferson's Library was rich with history. I really can't explain how I felt there. It was honestly so beautiful and just amazing to my eyes. It was rich with history and beauty all over. Looking at old books and the texture of it, the intensity you feel is no joke. It was the best. The US Marine Corps memorial was also very intense. It was beautiful and very patriotic. I really loved the part of the World War II Memorial where there are little stars on one wall. I felt my heart go heavy at that point. The Lincoln Memorial was also amazing. Just knowing the fact that Martin Luther King Jr. gave his speech there and I was able to stand there was truthfully an honor for me. I can't describe how I felt. The WWII, Korean and Vietnam Memorials were also very severe. You could feel the pain and agony once you see the statues, names of fallen soldiers and a wall covered with real pictures of soldiers who served. It was serene yet heavy on your heart. It was hard for me to able to process my feelings at that moment. My visit to the White House was short but I was still able to notice many other things surrounding the area. I realized that there is always a protest going on in DC. It made me realize how there are so many people passionate about a cause and fighting for it. Another event that I really enjoyed has to be the play "Shear Madness" that was performed at the Kennedy Center for the Performing Arts. It was so nice to be able to just relax after an intense day of walking around Capitol Hill, arriving at appointments on time, and able to process the fact that I actually spoke to a government officials' staff to discuss matters important to me.

In the end, Washington, D.C is a beautiful place. I loved the fact you can get around by just walking. It had a real city feel compared to other cities I've been to. I made great friends during my stay there and with some I will stay in contact with. I learned more about myself throughout the week. I learned what issues are important to me and my stance on them. I learned that I have to stop worrying about what others think about my opinion and instead believe in them and fight for them. After my visit I want to intern for the Senate and do many other great things. I want to be able to be express my beliefs and not be scared to do so. Now with the help of Close Up I'll be able to. Quite frankly, with the help of Close-Up, my way to approach things has changed. I want to be able to know more and express my thoughts about issues and respect others' opinions as well. This program has also made me realize I want to take part in politics and pursue a career in politics which I'm psyched out about!

If I had the opportunity to do Close Up all over again I would. It's an experience I won't forget. I recommend every student try it out. It really does change the way you think and approach things. It helps you become a better you and enhance your knowledge about the country you're living in how it works. Also, I'd like to thank Mr. Hall for helping me out throughout the whole process. He saw my desire to go and he made it possible for me to do it. Thank you so much Mr. Hall because of you I was able to experience something mind-blowing.
Noor Shahed will be attending Texas A & M University begining fall 2014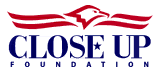 Want to go to Washington DC in the spring of 2015?
Visit the Close Up page HERE.
AND/OR
Come by and see Mr. Hall in Room 249.